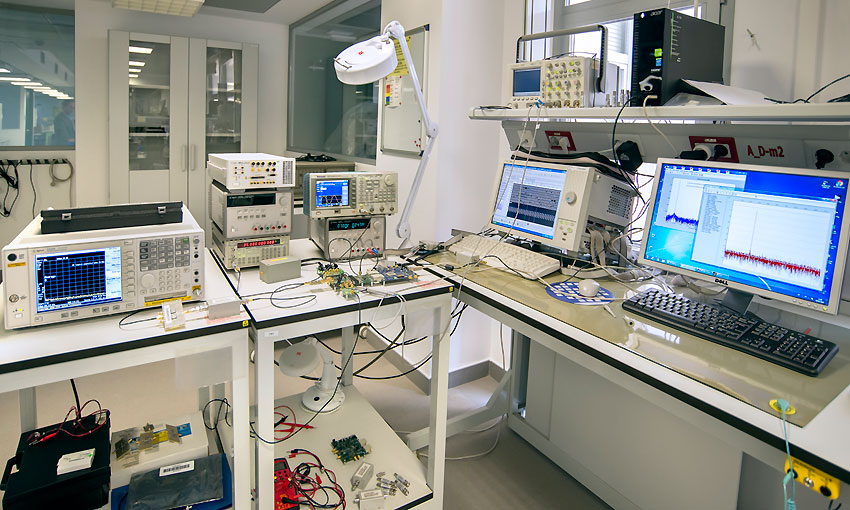 Service description
---
The service offers the possibility of carrying out, among others, the following measures:
- Spectrum analysis of RF signals.
- Noise figure measurements.
- Power measurements.
- Characterization of low noise amplifier circuits (LNAs).
- Impedance measurements.
- Obtaining S parameters.
- Analysis of communication protocols.
- Generation and analysis of multi-tone signals.
To this end, it has the general-use radio frequency equipment that IMSE currently has, which includes, among others, the HP8719, Agilent E4440A, HP8562 and Agilent N5230 network/spectrum analyzers, HP8664 signal generators, Agilent 5182A vector signal generators and N8974A noise figure analyzer, which allow measurements up to a maximum of 13.5GHz.
The service also has an anechoic chamber for the characterization of emission/reception devices in a wide range of frequencies (700MHz-18GHz) as well as characterizing low-gain omnidirectional antennas. This equipment allows:
- Obtaining radiation patterns.
- Gain measure.
- Directivity of antennas.
- Isotropic sensitivity.
The equipment of this service is completed with a probe station with the capacity to carry out measurements up to 50GHz, both on wafers and on printed circuit boards.
Options and prices
---
| Options | Unit | Public sector | Other clients |
| --- | --- | --- | --- |
| Test of third-party RF circuits by IMSE staff | €/day | 739.04 € | 809.43 € |
| Use of RF laboratory & equipment | €/day | 369,52 € | 404,71 € |
Contact
---
Unit of Technical Support to the Design and Test of Integrated Circuits< >