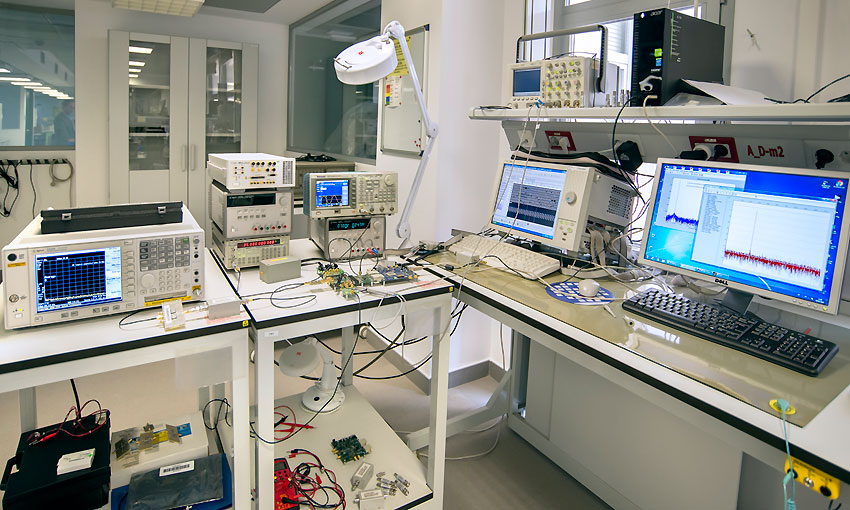 Service description
---
The Service offers a wide range of measurement capabilities, some of which are listed below:
- Signal analysis in the frequency domain.
- Signal analysis in the time domain.
- Network analysis.
- Electronic noise measurements.
- Harmonic distortion measurements.
- Impedance measurements of passive devices.
- Acquisition and generation of logical patterns at high speed.
- Analysis of standard communication protocols.
- Digital signal integrity analysis.
- Acquisition of signals of very low voltage level.
- Jitter measurements.
A powerful range of equipment is available to carry out these measurements, including the Agilent 16902B and 16823A logic analyzers, 16720B pattern generators, HP3589A, SR770, HP4395A and HP3585A spectrum and network analyzers. Users can also have an important variety of oscilloscopes, among which it is worth highlighting the Agilent DSO81304B Infiniium with 40G samples/s and 13GHz of bandwidth and the LeCroy WaveJet 334A with 12 bits of vertical resolution.
Options and prices
---
| Options | Unit | Public sector | Other clients |
| --- | --- | --- | --- |
| Test of third-party circuits by IMSE staff | €/day | 554,28 € | 607,07 € |
| Use of A/D measurement laboratory & equipment | €/day | 277,14 € | 303,54 € |
Contact
---
Unit of Technical Support to the Design and Test of Integrated Circuits< >