Description
Research, development, and innovation regarding the implementation of high-performance mixed-signal interfaces, including front-end amplifiers, ADCs and DACs, in mainstream CMOS technological processes. Covered activities include:
Exploration of novel architectural and circuital techniques for ADCs and DACs that are specially suited for low-voltage low-power operation in deep-submicron and nanometer CMOS processes.
Modeling of second-order phenomena and exploration of fundamental operation limits and constraints.
Development of top-down methodologies that support their optimized performance from the early design phases, including accurate behavioral modeling of mixed-signal circuital blocks.
Exploration of reconfiguration strategies and programmability techniques at the architecture and circuit level for adaptive interface performance.
Exploration of calibration techniques and architectures.
Optimum chip implementation and verification.
The areas of application include wireline, wireless and optoelectronic communications, sensor interfaces, and medical electronics.
Expertise is supported by a long-term tradition (over 20 years) in the field of mixed-signal design, with special emphasis on sigma-delta, pipeline, ramp and SAR ADCs and several chips successfully transferred to industry. The accumulated know-how drives R&D, cooperation, and dissemination activities with both academia and world-leader industrial partners.
Industrial partners of R&D activities in the field of analog-to-digital interfaces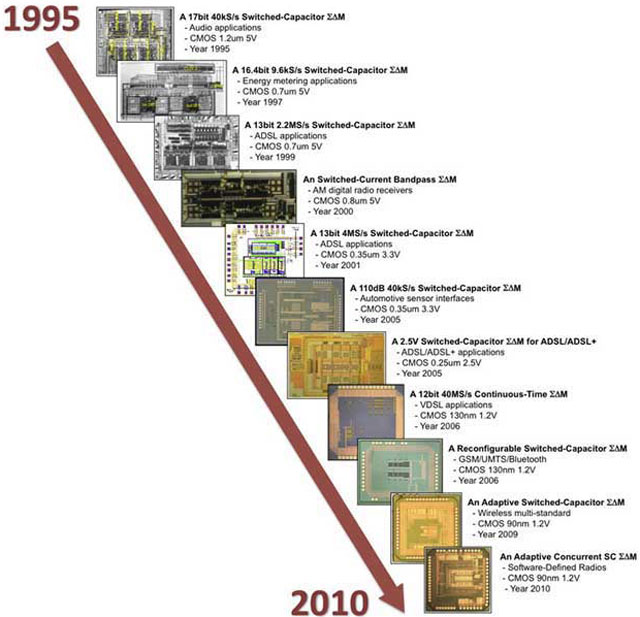 Summary of designed sigma-delta modulator ICs
Research Highlights
J. Ruiz-Amaya, M. Delgado-Restituto and A. Rodriguez-Vazquez,
Device-Level Modeling and Synthesis of High-Performance Pipeline ADCs
, Springer, 2011 »
doi
R. del Rio, F. Medeiro, B. Perez-Verdu, J.M. de la Rosa and A. Rodriguez-Vazquez,
CMOS Cascade Sigma-Delta Modulators for Sensors and Telecom: Error Analysis and Practical Design
, Springer, 2006 »
doi
J. Ruiz-Amaya, J.M. de la Rosa, F.V. Fernandez, F. Medeiro, R. del Rio, B. Perez-Verdu and A. Rodriguez-Vazquez, "High-Level Synthesis of Switched-Capacitor, Switched-Current and Continuous-Time ΣΔ Modulators using SIMULINK-Based Time-Domain Behavioral Models",
IEEE Transactions on Circuits and Systems I: Regular Papers
, vol. 52 (9), pp. 1795-1810, 2005 »
doi
A. Rodriguez-Vazquez, F. Medeiro and E. Janssens (Eds.).
CMOS Telecom Data Converters
, Springer, 2003 »
doi
Technology Transfer
Transference of a high-performance sigma-delta converter designed by our research group to Alcatel Microelectronics and STMicroelectronics for its incorporation into the ADSL2+ modem chipset ST20190 Utopia for CPE applications (massive production in 2004).
Key Research Projects & Contracts
Design of Up-Stream and Down-Stream Data Converter for New Generation ADSL6
PI: Ángel Rodríguez Vázquez
Funding Body: Alcatel Microelectronics (European private funding)
2001 - 2003
TAMES-2: Testability of Analog Macrocells Embedded into System-on-Chip (IST 2001-34283)
PI: Belén Pérez Verdú
Funding Body: European Union (European public funding)
2002 - 2004
SPIRIT: Secured Platform for Intelligent and Reconfigurable Voice and Data Terminals (MEDEA+ 2A101)
PI: Manuel Delgado Restituto
Funding Body: MEDEA+ (European public funding)
2006 - 2009